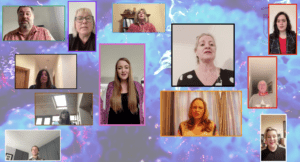 St Kevin's Community College Workplace Choir was established in January 2021 to offer the staff an opportunity to meet in a social setting, albeit online! Our director, Eimear Crehan, joined the staff at St Kevin's in September 2020 as a teacher, and it was a great chance for the staff to benefit from her passion for sharing singing with the world as a means for deepening connection and strengthening community.
It has been wonderful to share a bit of time each week connecting with each other, learning new skills and creating music together.
Working in St Kevin's is more than just teaching students. It's about seeing our students in more than an academic light. We are a small tight knit school community and as a result of this we get to experience the True Colours of each and
every one of our students.
We hope that you enjoy our music!