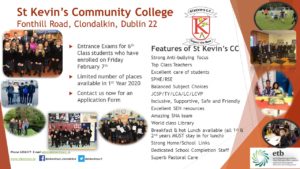 Please note that we have a small number of places left in all year groups for the 2020/2021 academic year. Please contact the school immediately for an application form.
Applications to enroll in St Kevin's Community College can be made by contacting Liz or Mandy in the main office at 01-6266277 or by emailing admin@stkevinscc.ie.
You can also contact our Home School Community Liaison teacher, Deirdre Dalton on 085 762299 or by Email –  deirdredalton@stkevinscc.ie
Our Admissions & Transfer policy is available below. Please see the Policies section of our website for more of our school policies.