Free Live Classes for students from 1st to 6th year now available from www.revise.ie
Revise.ie is delighted to be able to support students everywhere during these unusual times.
More classes being added to our expanding timetable.
Classes will also now be available to view for up to 24hrs after each class has ended.
We recognise the incredible hard work that teachers are doing to support their students during these difficult times. We ask all students to please join any classes that their own teachers are providing at the moment.
We are rapidly expanding the timetable. Please keep checking here for further information. We recommend that all students check out the FAQ's section to avoid making errors when joining classes.
Please register on a Laptop / Desktop as not all phones and tablets are compatible. To try and view on phones and tablets,  you must download Zoho Showtime on your device.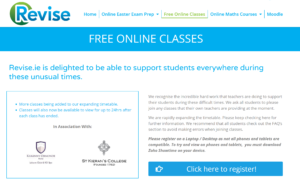 Sample Timetables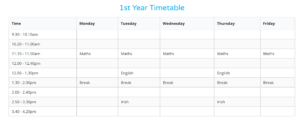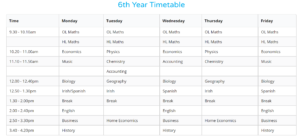 Click the link below to register for free
https://revise.zohoshowtime.eu/
Please note these classes are not associated with St Kevin's CC in any way.