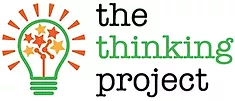 We are delighted to announce that we have partnered with The Thinking Project  to support students' social-emotional health and well-being this term. 
The Thinking Project is a non-profit organisation that bases its curriculum on Mindfulness, Emotional Awareness, and Inquiry-Based Stress Reduction. It works with teachers and students to question fixed-mindset thinking, support social-emotional health, and build vibrant, open-minded learning communities.
The letter below outlines what is involved in greater detail and we would ask that all 1st year parents read it and note its contents. A text message has been sent to those concerned.
Sample Survey questions available here